Apr 19, 2023 01:34 PM Central
Jacqueline McLaughlin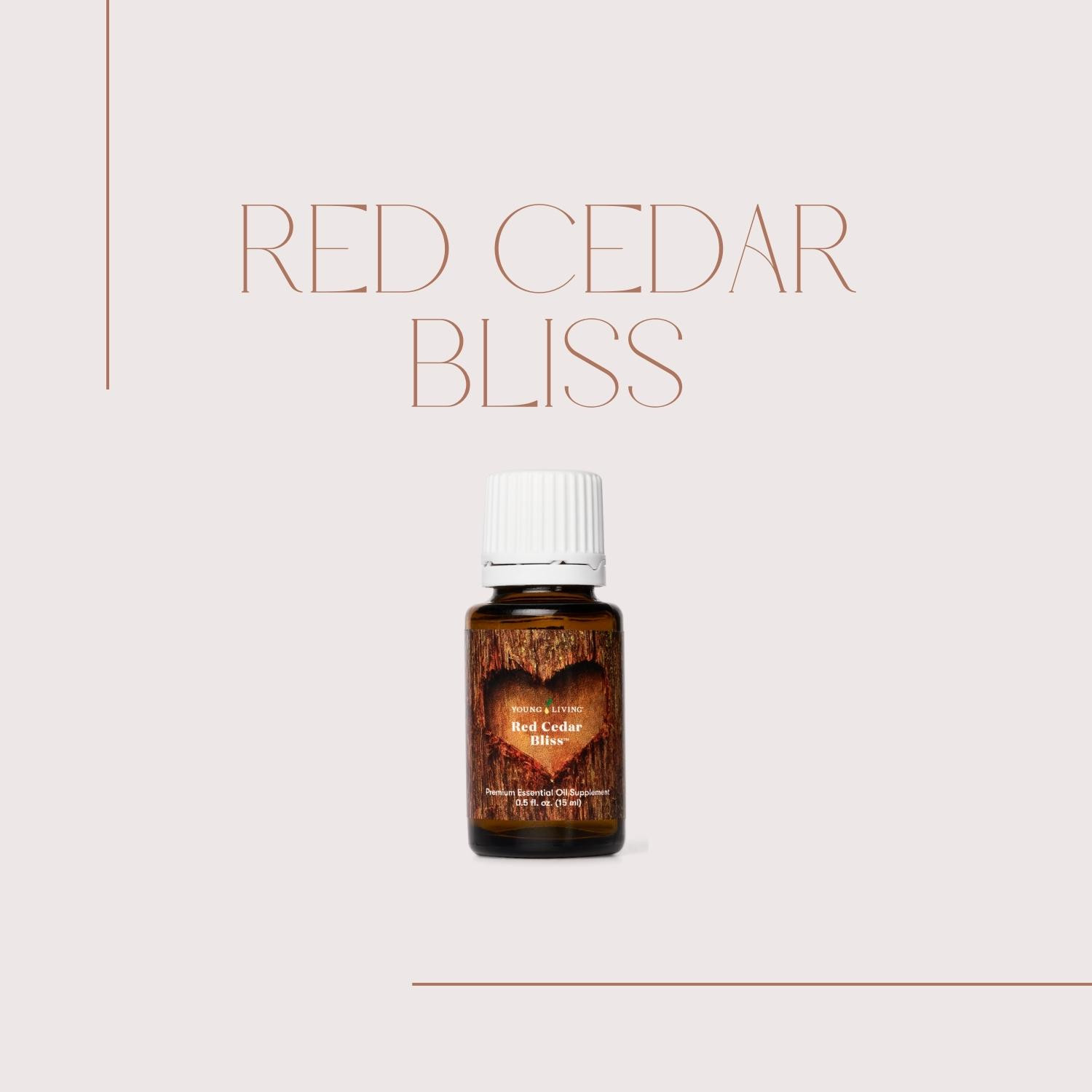 Introducing Red Cedar Bliss Essential Oil Blend
: Your Ticket to Cozy Tranquility!
If you're looking for a comforting and grounding essential oil blend that can support your overall wellness and immune system, look no further than Red Cedar Bliss. This blend is a beautiful combination of Orange, Clove, Laurus Nobilis, Helichrysum, Frankincense, and Western Red Cedar oils, which come together to create a warm and evergreen aroma that will transport you to a peaceful countryside cabin.
But Red Cedar Bliss isn't just a pleasant scent - it's also packed with antioxidants and other health-promoting properties that make it an incredibly valuable tool for physical, mental, and emotional health. Each of the key ingredients in this blend has its own unique benefits:
Orange: High in limonene, a constituent known for immune support, and with a sweet and uplifting aroma.
Clove: A powerhouse antioxidant that can protect the brain, heart, lungs, and immune system.
Laurus Nobilis: Offers cleansing properties and provides immune support when taken as a dietary supplement.
Helichrysum: Soothes inflammation in the body and emotions, and can help process and release the effects of trauma.
Frankincense: Enhances immunological function, beautifies skin, and increases spiritual awareness.
Western Red Cedar: Beneficial for the emotions, respiratory system, and skin, and great for opening and soothing airways in the presence of allergens.
So how can you use Red Cedar Bliss in your daily life? Here are just a few ideas:
Add a drop to a veggie capsule to support your immune system.
Dilute and massage a few drops into your skin for a moment of harmony and peace.
Diffuse to fill your space with a cheerful, spicy-citrus aroma.
Add a few drops to the floor of your shower for a spa-like experience.
Add to a teaspoon of honey or a mug of hot tea for a supplement boost.
Apply topically to the head, neck, and chest to inhale its stimulating yet soothing aroma.
And if you're feeling creative, you can try making a DIY oral spray or experimenting with different diffuser combinations to customize your experience even further. The possibilities are endless!
Overall, Red Cedar Bliss is a must-have essential oil blend for anyone looking to bring a little more tranquility and wellness into their lives. So why not give it a try and see how it can benefit you?
Try Red Cedar Bliss today - you won't regret it! And if you do not yet have a Young Living account set up, you can set it up easy-peasy
RIGHT HERE
and start shopping! Put any amount in a Loyalty Rewards monthly order and get access to the 24% discount. Don't want to buy monthly? Make sure your first order is 100 PV or more, and you'll unlock the discount for 12 months! Shop Your Way!
Jacque
Have you thought about making a few changes to eliminate harsh chemicals from your environment but just didn't know where to start? Click on the link below to get access to my Simple Start to Natural Living!