Jun 15, 2023 02:35 PM Central
Jacqueline McLaughlin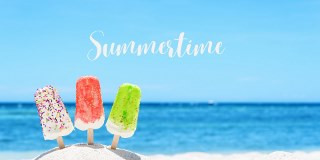 Summer is finally here - it's time for fun in the sun! With the arrival of summer, you might be planning a lot of outdoor activities such as hiking, camping, swimming, and barbequing with your loved ones. Although enjoying the great outdoors is a wonderful experience, it can also come with some hurdles, particularly when dealing with pesky bugs, heat, and sunburn. Whether you're a seasoned outdoorsman or a newbie to nature, we've got you covered with our wishlist of summer product must-haves from Young Living!
First up is
Citronella
essential oil, a natural insect repellent that can help keep those unwanted bugs at bay. Whether you are lounging on your patio or camping in the woods, you can rely on Citronella to repel mosquitoes, flies, and other flying insects. And for those on-the-go moments, keep our insect repellent wipes and liquid in your bag for easy access.
After a day of swimming and outdoor activities, a cooling
after-sun spray
is a nice treat for your skin. Our after-sun spray is designed to quickly hydrate and soothe your skin with ingredients like aloe vera and essential oils like lavender, peppermint, and tea tree.
Sun safety is also important, and we've got you covered with our
mineral sunscreen
that's safe for all skin types. This non-greasy formula is perfect for all your summer adventures – and it's
free of harmful chemicals like oxybenzone and octinoxate
.
Next up on our summer wish list are vitality drops,
NingXia Red
, and
NingXia Zyng
, all perfect for staying hydrated and energized throughout your summer activities. These products contain hydrating ingredients like pure essential oils, wolfberry, and green tea extracts to give you the boost you need when you're on-the-go.
We hope our summer wish list has inspired you to try out some of our favorite Young Living products to help you make the most of your summer experiences! You can easily add these items to your account wishlist with this link, or start your own Young Living account by clicking here:
Summer Wish List
If you want more summer inspiration,
Click Here
for instant access to tips and tricks for living your best summer!
Here's the Summer!
Jacque
Have you thought about making a few changes to eliminate harsh chemicals from your environment but just didn't know where to start? Click on the link below to get access to my Simple Start to Natural Living!