Feb 13, 2023 12:05 PM Central
Jacqueline McLaughlin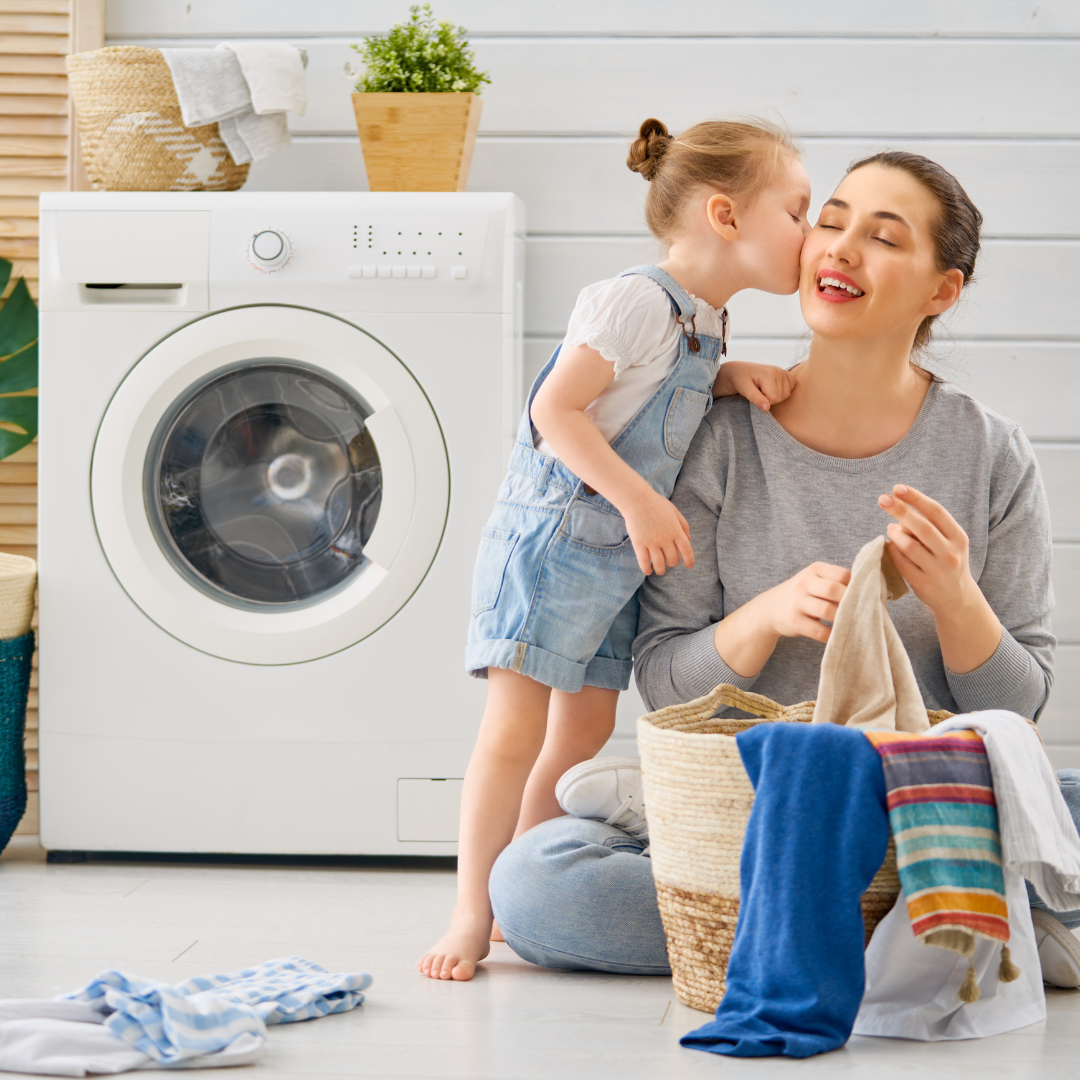 Today I'm going to share with you some laundry hacks that will not only save you money ~ they will also help you eliminate harsh chemicals and endocrine disruptors (chemical ingredients that mess with your hormones) from your laundry duties!
If you've been reading my blog for long, you are probably already aware that most laundry products are full of endocrine disruptors; but if you're not yet aware, I'll share a "Laundry Wish List" for your laundry products that are NOT swimming in endocrine, hormone disrupting chemicals and fragrances.
Laundry Wish List From the "Wish List" choose at least one of the oils (or both) from the Laundry Wish List and the Thieves Laundry Soap (a tiny amount will do an entire load of laundry - I use about a Tablespoon for most loads)! Also add the Thieves Household Cleaner if you want to make a plant-based Stain Stick for your laundry chores! (if you choose any two of the products to add to your cart or a Loyalty order, you will unlock the 24% discount)! Then get some dryer balls to put the oils on and add them to the dryer with your clothes. Dryer Balls Dryer balls not only help your clothes dry faster, they also help with static cling, and they can add a delicate scent to your laundry when you add the oils to the dryer ball.
I like to mix up a 16-oz spray bottle with Vinegar and 10 drops each of Lemongrass, Lavender and Eucalyptus. (You can use whatever oils you like - but Young Living is all I recommend to make sure you don't have any additives or adulterants).
Most people just can't get used to using so little laundry soap, because liquid laundry products are mostly water, and you're used to using more. Thieves Laundry Soap is NOT pre-diluted, so you can use just a little bit - but if that just doesn't feel right to you - here's a hack that will keep you from wasting your precious laundry soap and this hack will double or triple your bottle!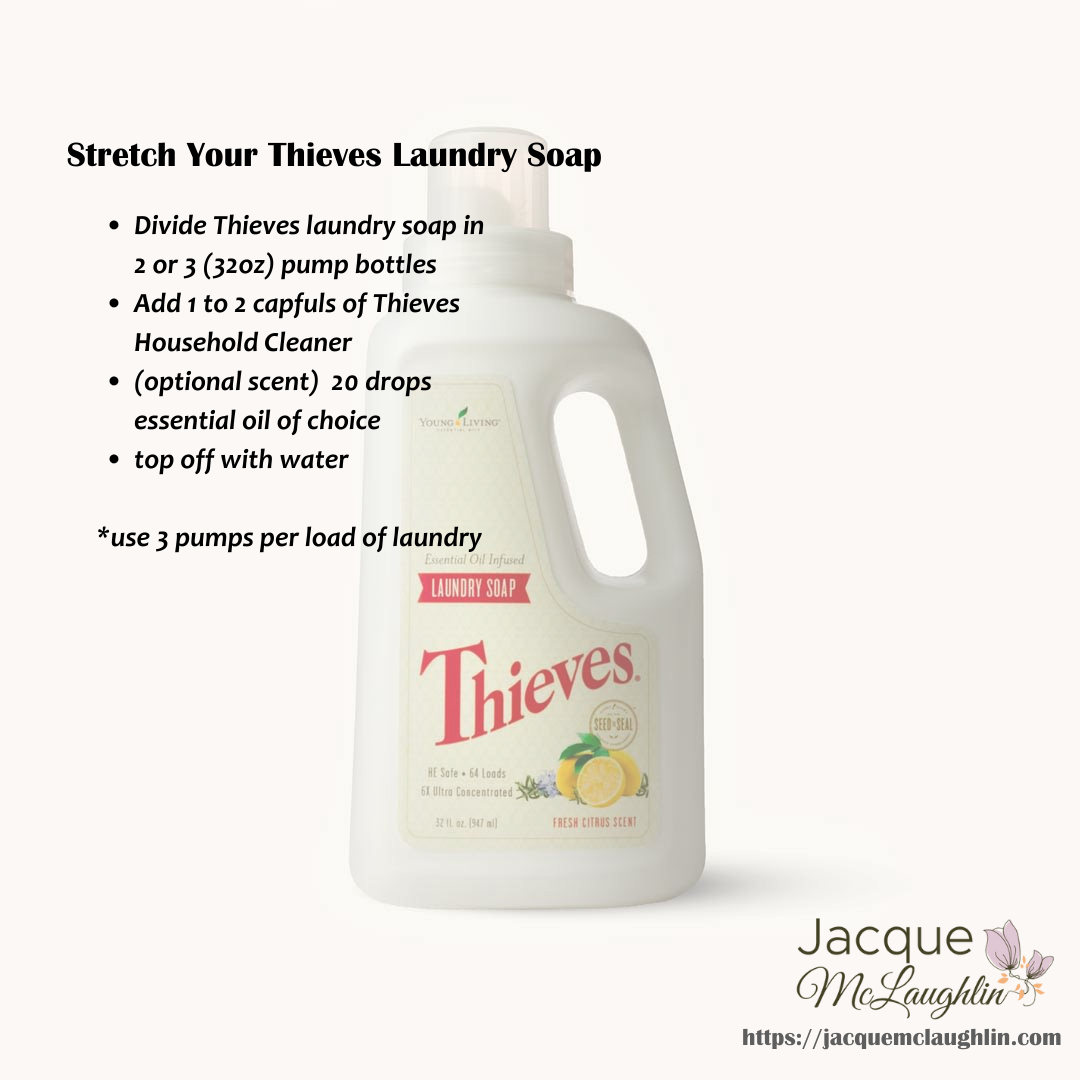 Stretch your Thieves Laundry Soap
Divide Thieves Laundry Soap into two or three 32-oz pump bottles.
Add 1 to 2 capfuls of Thieves Household Cleaner
(optional scent) 20 drops YL essential oil of choice
Top off with water

* use 3 pumps per load of laundry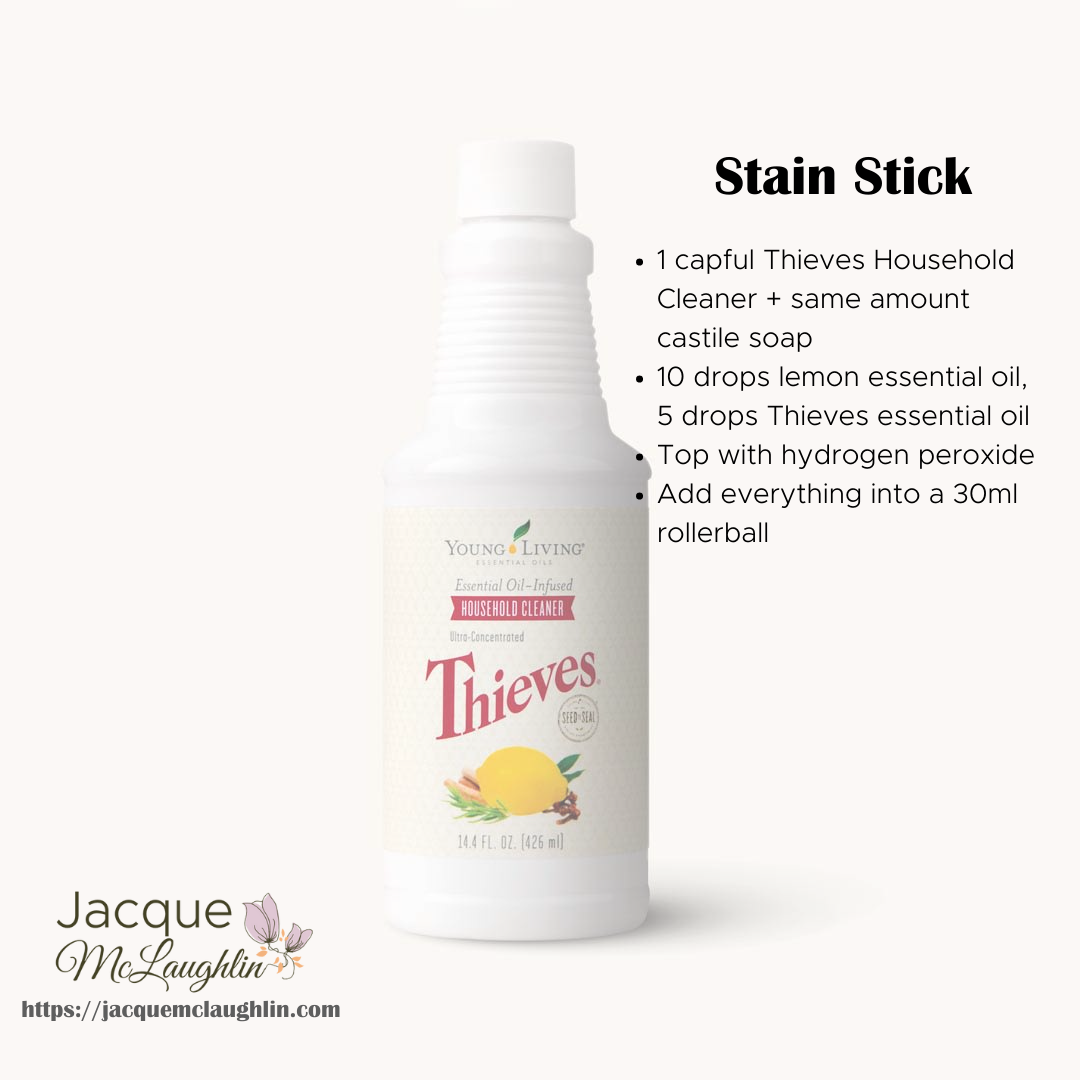 Stain removal products for the laundry are another thing that often contain harsh chemical ingredients, so here's your DIY Laundry Stick using the Thieves Household Cleaner!
STAIN STICK
1 capful Thieves Household Cleaner + same amount of Castile soap
10 drops lemon essential oil, 5 drops Thieves essential oil
Top with hydrogen peroxide
Add all into a 30ml rollerball
Here's another great hack for laundry day:
Put a dry towel in with your wet clothes in the dryer ~ it not only will help your clothes dry faster, but it will also make them fluffier!
Whatever you decide to do for your laundry, just be sure to eliminate those household products that have "fragrance" in them. Anything you buy that has "fragrance" as part of the ingredients is a chemical concoction that is likely full of endocrine disruptors.
If you would like to get my other "Household Hacks" just text the word HACKS to 828-600-5203
Have you thought about making a few changes to eliminate harsh chemicals from your environment but just didn't know where to start? Click on the link below to get access to my Simple Start to Natural Living!