Nov 2, 2021 11:30 AM Central
Jacqueline McLaughlin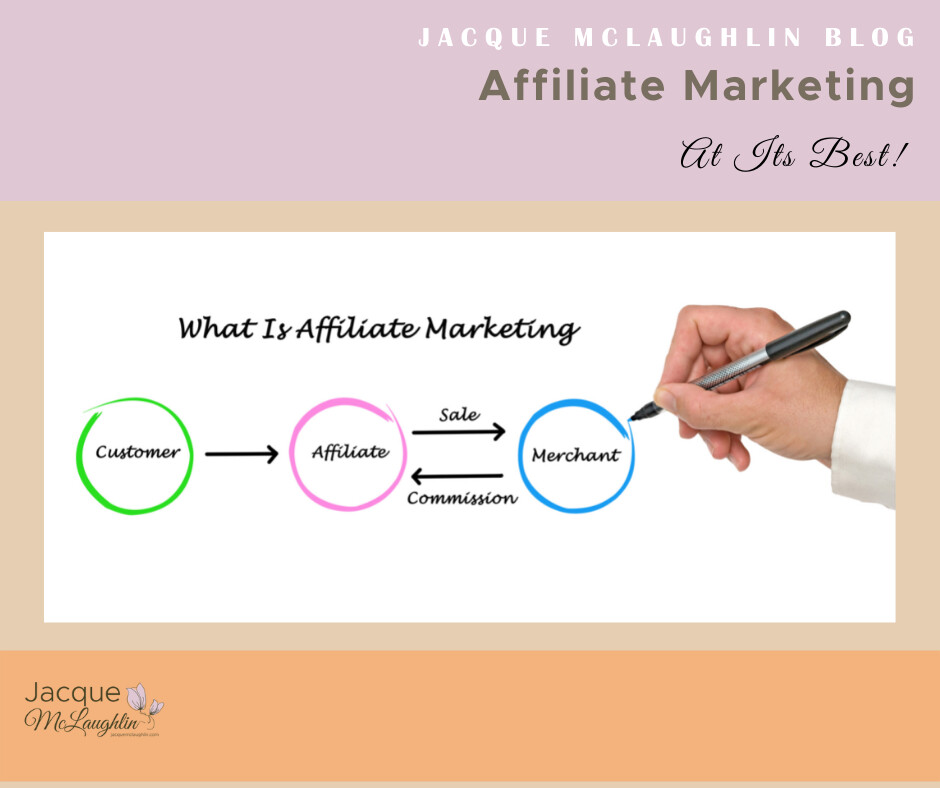 Most everyone in today's world understands affiliate marketing. Amazon is a great example – a person can become an "affiliate" by creating their own referral link to a specific product, share it in an email, Facebook page, Instagram, text – the options are endless! When someone uses their link to purchase that product, that "affiliate" earns a commission.

Of course, with Amazon you would have to have a LOT of people use your link to make any substantial amount of money – but the concept is brilliant, and it works.

If you know someone that does affiliate marketing, do you support them by using it, knowing that the price is the same, and they just might make a buck or two? Why wouldn't you? I mean, seriously – in this day and age of "support small businesses" this is a no brainer.
I tried Amazon affiliate marketing, and quite frankly, it's not worth the effort, unless you are marketing really high-ticket items or want to spend all day long coming up with links to different products. My time is too valuable for me to try to find just the right product, figure out who wants it, then find a way to market to them – I've got other things I want to do.
But, I AM a Brand Partner affiliate for Young Living, and we have over 600 products that millions of people are already enjoying because these products are actually beneficial for you – everything from plant-based cleaning, personal care, essential oils, diffusers, & supplements for vitality, and more!
Did you know the Young Living business model has changed recently? You used to have to "Join" the business model of the company in order to get the best price (24% discount). But no more!!!

Now we have something akin to affiliate marketing, whereby a Brand Partner can share their referral link and you can set up your own shopping account, WITHOUT JOINING ANYTHING, and shop to your heart's content.

I've been sharing Young Living with others for about 20 years now, and the income I get from it gives me the ability to not worry about paying the bills and getting by in retirement. Until now, I was sort of an "undercover" marketer of Young Living, because I had some previous unpleasant experiences with other network marketing companies and didn't want to be perceived as "one of those people."

But now, because there is nothing to join, and you can just shop 'til you drop and buy what you want when you want, I am no longer shy about sharing.
If you are interested in ditching the toxic everyday products that have harmful effects over the long term on your health and wellness, and you do not yet have a Young Living account set up, please support my small business by setting up your own shopping account with

my referral link

. And if you will
contact me
beforehand, I can make sure you take advantage of any specials going on and also help you get that 24% discount! I will also send you a very special Thank you gift.

One other thing – if you are looking for a way to make a little extra money, Contact me & I'll show you how to join my team of affiliate Brand Partners for Young Living! We have an entire support group dedicated to your success!
Whatever you decide, please support your local small businesses, whether they are a store front, or a home-based business - in this day we all need to support one another!
Have you thought about making a few changes to eliminate harsh chemicals from your environment but just didn't know where to start? Click on the link below to get access to my Simple Start to Natural Living!