Jan 29, 2019 10:09 AM Central
Jacqueline McLaughlin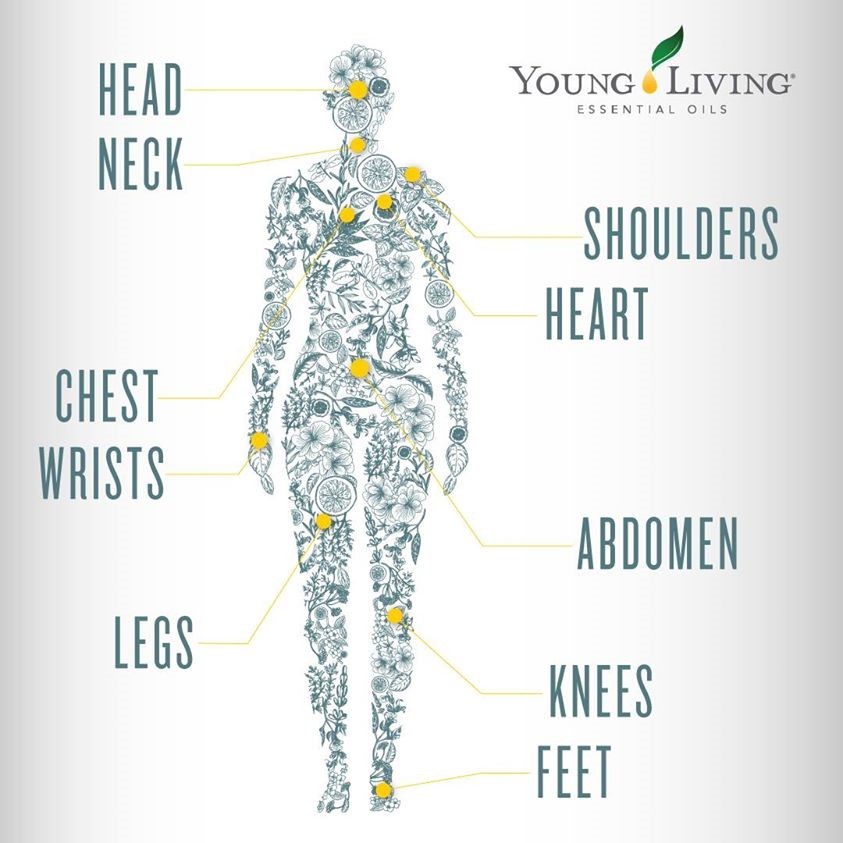 Today's blog is Part 2 of where to put what oils on the body (just some suggestions). Hope you find it useful, and a big Thank You to Young Living corporate for sharing these ideas!
Yesterday we covered the head and neck area, and today we will cover from the shoulders down to the feet!
Shoulders: Apply for an aroma to help you stay grounded and supported. White Angelica, Dream Catcher, Release.
Wrists: Apply as perfume to uplift mood and create a focused environment wherever you go. Joy, Jade Lemon, Citrus Fresh, Rose, Motivation.
Chest: Apply for a refreshing sensation that supports deep breathing. R.C., Breath Again, Eucalyptus, Raven.
Heart: Apply for an aroma makes the heart happy. Gratitude, Harmony, Sacred Frankincense, Valor, Release.
Belly: Apply after eating or while traveling. DiGize, Peppermint, Spearmint, Ginger, AromaEase, Fennel.
Lower abdomen: For women - Apply monthly as desired, can be used with a warm compress. Dragon Time, Lavender, Lady Sclareol, SclarEssence, Clary Sage.
Back: Apply after a workout or during a massage. Copaiba, Cool Azul, Peppermint, AromaSiez, Roman Chamomile.
Legs and knees: Apply after an active day. PanAway, Wintergreen, Copaiba, Deep Relief.
Ankles: Apply on pressure points. Endoflex, Sclaressence, Clary Sage, Geranium.
Bottoms of feet: Apply for specific needs. Thieves, Grounding, ImmuPower, Peace and Calming.
Safety: Citrus oils can increase sun sensitivity. Avoid sun for 12 hours after applying. Please follow all directions and cautions on individual product labels.
Where do you like to apply your favorite oils?