Jul 25, 2022 12:19 PM Central
Jacqueline McLaughlin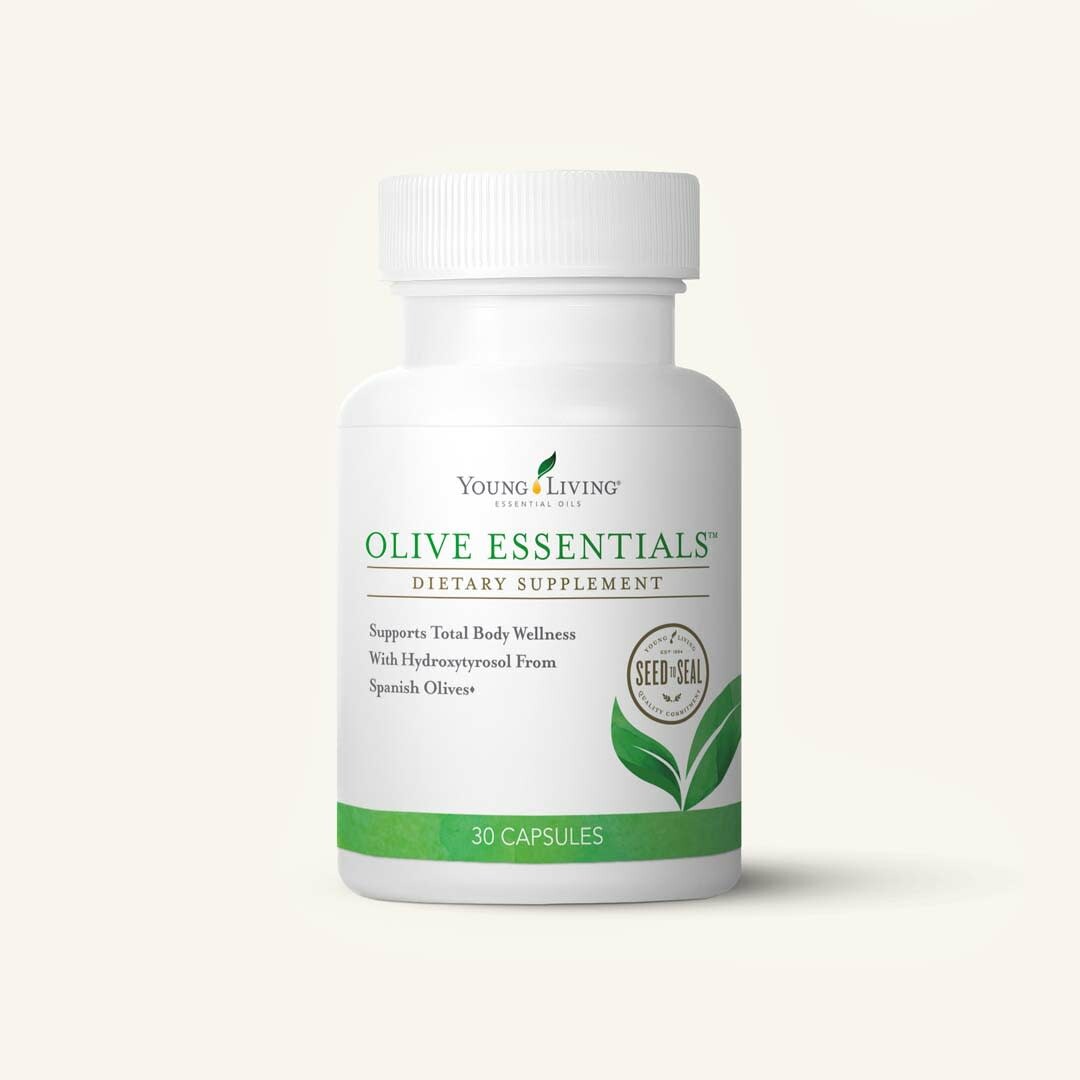 Today I want to highlight a supplement that I find is absolutely essential in my diet, Olive Essentials! I take this supplement daily and highly recommend it!
Olive Essentials contains all the good things about a Mediterranean diet rolled into a convenient capsule - does it get any easier than that? This supplement is a great choice for supporting heart health with its proprietary combination of olive oil, hydroxytyrosol, and essential oils.
What is hydroxytyrosol? Hydroxytyrosol is a phenolic compound obtained from olive fruit and leaves. It is considered a powerful antioxidant compound with beneficial properties that support overall health.
OLIVE ESSENTIALS AT A GLANCE
Helps support vascular and heart health
Supports total body wellness, a healthy immune system, and internal cleansing
Contains Hydroxytyrosol, a phenolic compound obtained from olive fruit and olive leaves, considered a powerful antioxidant that supports overall health
Provides as much hydroxytyrosol as a liter of extra virgin olive oil in each capsule
Full spectrum Olive Supplement including the compounds oleuropein and hydroxytyrosol
BACKGROUND Throughout history, olives stood as a symbol of wealth and prosperity and have become a key ingredient in the Mediterranean diet. Olive Essentials is an olive supplement that features ingredients such as hydroxytyrosol, a powerful, naturally occurring antioxidant compound partially responsible for the healthy reputation of Spanish olives.
Hydroxytyrosol offers beneficial properties that help fight against the oxidative damage caused by free radicals and support overall health. Each capsule contains as much hydroxytyrosol as a liter of olive oil to deliver a more concentrated amount of this invaluable compound than you'll find almost anywhere else.
The formula is rounded out with Parsley and Rosemary essential oils. Rosemary Vitality premium essential oil helps keep your healthy immune system in top shape, while Parsley Vitality goes to work on promoting internal cleansing.
KEY INGREDIENTS
Hydroxytyrosol (from Olive Fruit): a powerful antioxidant that promotes healthy cholesterol levels, heart, brain and skin health
Olive fruit & extract: a source of powerful antioxidants that promote immune, cardiovascular, cognitive and skin health, especially as we age
Olive fruit extract: 100 mg (20 mg Hydroxytyrosol, 300 : 1, QCE 30 g)
Olive leaf extract:. 9.85 mg (2.2 mg Oleuropein, 9.5 : 1, QCE 93.56 mg)
Parsley essential oil: great source of antioxidants luteolin, apigenin, lycopene, beta-carotene and alpha-carotene; promotes intestinal cleansing and supports kidney health
Parsley (Petroselinum crispum) herb oil: 0.25 mg
Rosemary essential oil: helps balance the endocrine system and cleanse the liver; promotes heart health and helps support healthy blood sugar levels
Rosemary (Rosmarinus officinalis) essential oil: 0.25 mg
FULL INGREDIENT LIST Hydroxytyrosol (from Olive Fruit) Olive Essentials Blend: Olive fruit extract, Olive leaf extract, Parsley (petroselinum crispum)† leaf oil, Rosemary (rosmarinus officinalis)† leaf oil Other Ingredients: Microcrystalline cellulose, Hypromellose, Water, Magnesium stearate †Premium essential oil
HOW TO USE Take 1 capsule daily with food.
Olive Essentials uses olive fruit and leaf extracts, not olive oil.
For optimal benefits, take Olive Essentials in the morning with water.
For those who do not yet have a Young Living shopping account set up, you can
Click Here
to find this product. And if you want to get a 24% discount for 12 months, just make your order total 100 pv or more. You can also unlock the 24% discount if you put anything (no minimum) in a monthly Loyalty Rewards order, where you will also earn points that can be used to pay for products in the future! When setting up your account, if you are asked for a sponsor or enroller number, use 489107
Have you thought about making a few changes to eliminate harsh chemicals from your environment but just didn't know where to start? Click on the link below to get access to my Simple Start to Natural Living!