03/14/2022 10:00 AM Central
Jacqueline McLaughlin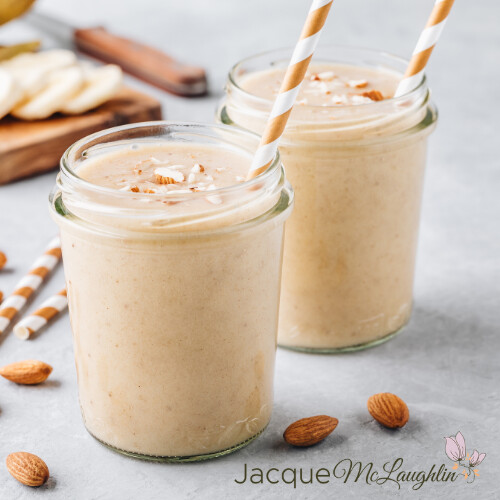 Spring is upon us, even if it doesn't feel like it yet, and it's time to start shedding those extra winter pounds and get in shape for spring and summer activities! This blog is a bit longer than my usual, but it's full of great recipes and tips for doing just that!

As the gatekeepers of our homes, we have such a great opportunity to bring in healthy products and create healthy habits for ourselves and families. Join us this month as we pursue healthy habits and switch out our meal replacements for a cleaner option - Pure Protein Complete!
This delicious protein powder comes in both Vanilla Spice and Chocolate flavors (and they both taste amazing!) and is such a great addition to anyone's fitness regimen. Pure Protein Complete combines a blend of 5 different proteins, amino acids, and ancient peat and apple extract that will leave you full and satisfied. It is high in protein, supports the muscular system, supports the body in building lean muscle, supports energy levels, and is a great post-workout muscle recovery drink
WHY WE LOVE IT
An excellent source of protein (25 grams!)
Formulated with a variety of amino acids to support muscle mass
Provides protein metabolism support
Supports ATP production, the energy currency of the body
Helps build lean muscle
rBGH-Free Whey and soy-Free
Available in Chocolate and Vanilla Spice flavors
Versatile enough for smoothies, baking and more!
Pure Protein Complete is a staple in our homes because of its super clean, proprietary five protein blend! It also contains amino acids, and ancient peat and apple extract that allow the body to absorb and utilize the nutrients in the powder much more easily.
The foundation of the protein blend is cow and goat whey, pea protein, egg white protein, and organic hemp seed protein. This specific mix of sources allows for a full range of amino acids including: D-aspartic acid, Threonine, L-serine, Glutamic acid, Glycine, Alanine, Valine, Methionine, Isoleucine, Leucine, Tyrosine, Phenylalanine, Lysine, Histidine, Arginine, Proline, Hydroxyproline, Cystine, Tryptophan, and Cysteine.
The formula also includes a unique enzyme blend, so when paired with these amino acids, this protein supplement helps support overall protein utilization in the body. And this is of utmost importance when we are focusing on fitness routines and muscle building!
Ancient peat and apple extract, and a powerful B-vitamin blend are the icing on the cake. Together they support ATP production, the energy currency of the body, which is definitely something we want all year round!
WHY MAKE THE SWITCH Unfortunately, the majority of protein powders contain ingredients that we don't really want to be consuming. Some contain quite a lot of added sugar (as much as 23 grams per scoop), which can cause an unhealthy spike in blood sugar.
Others contain heavy metals and toxins. In fact, in a study by the Clean Label Project 134 products were screened for 130 types of toxins. The study found that many protein powders contain heavy metals (lead, arsenic, cadmium, and mercury), bisphenol-A (BPA, which is used to make plastic), pesticides, or other contaminants with links to cancer and other health conditions. Some toxins were present in significant quantities. For example, one protein powder contained 25 times the allowed limit of BPA.
These are the last things we want to be worried about, especially when we are focusing on creating healthy habits! Because of Young Living's Seed to Seal standard, we can rest assured that the ingredients used are not only clean, they are ethically sourced and good for our bodies and overall health!
TO USE:
Add 2 scoops to 8 oz. of cold water, rice, almond, or other milk. then shake or stir until smooth. (I also like to mix in a blender with frozen fruit!)
Try one of our favorite recipes below!
And if you're looking for something with more fiber and slight cleansing properties, another option would be Balance Complete!
Balance Complete is different from protein powder in that it is a nutritive energizer and a cleanser. It contains brown rice bran, barley grass, and extra virgin coconut oil, so it is high in fiber, protein, and minerals.
This super-food-based meal replacement contains Ningxia wolfberry powder, brown rice bran, barley grass, extra virgin coconut oil, aloe vera, cinnamon powder, and Young Living's premium whey protein blend.
Balance Complete is high in fiber, high in protein, and contains the good fats, enzymes, vitamins, and minerals needed for a nutritionally complete meal replacement, and it supplies an amazing 11 grams of fiber per serving, absorbs toxins, and satisfies the appetite while balancing the body's essential requirements.
Ningxia wolfberry fruit powder: one of the highest known antioxidant nutrients that is wonderful for strengthening the immune system and promoting overall wellness, combating carcinogens.
Rice bran: rich in essential fatty acids and antioxidants; an excellent source of manganese, selenium and magnesium
Barley grass powder: rich in minerals and antioxidants
Cinnamon powder: super nutrient with amazing support for the immune system; antioxidant; great for weight support
Calcium, zinc, chromium, Vitamins B, C, A, E, and biotin: all needed for our bodies to function properly and stay healthy!
To use Balance Complete:
Add two scoops to 8-10 ounces of cold water or the milk of your choice. Shake, stir or blend until smooth. For added flavor, add fruit or essential oils or substitute Balance Complete in the smoothie recipes below.
For daily health maintenance, replace your least nutritious meal with Balance Complete.
During Young Living's five-day nutritive cleanse, replace your three daily meals with Balance Complete and follow the recommended schedule.
OUR FAVORITE RECIPES
Peppermint Mocha Smoothie:
1/3 frozen banana or 1/4 cup frozen cauliflower (to decrease carb count)
A large handful of organic spinach
2 scoops Pure Protein Complete in Chocolate Deluxe
Milk of choice
1 drop Peppermint Vitality Essential Oil
Ice to taste
Blend and go!!
Chocolate Peanut Butter Smoothie:
2 scoops Pure Protein Complete in Chocolate Deluxe
1 cup milk of choice
1 scoop organic coconut peanut butter
Ice to taste
Blend and enjoy!
Peppermint Mocha or Peppermint Cocoa This one is a favorite for the kiddos too!
6 oz mill of choice, warmed
2oz strong coffee, brewed (or more as desired)
½ to 1 scoop Chocolate Pure Protein Complete*
1 drop Peppermint Vitality Essential Oil
Optional: honey or maple syrup to taste Add ingredients to a large mouth mason jar + blend with an immersion blender until frothy. The protein powder makes a deliciously creamy texture! To make hot cocoa simply substitute water or extra milk for the coffee. Not a fan of mint chocolate? Sub cinnamon bark or simply omit the oil! *I use a whole scoop if I'm delaying breakfast or trying to get some solid nutrients into my kids (healthy hot cocoa for the win!). Try with ½ scoop and add more as desired!
Pumpkin Chocolate Protein Muffins (makes 12)
½ of a 15 ounce can pumpkin puree
2 eggs
1/2 cup coconut oil
1/3 cup water
1 cup sugar
1 3/4 cups Pamela's Baking Mix*
2 tablespoons Pure Protein Complete-Vanilla Spice
2 drops Cinnamon Bark Vitality or 2 teaspoons ground cinnamon
1 drop Nutmeg Vitality or ½ tsp nutmeg
1/2 cup chocolate chips *Sub for Pamela's Mix: 1 3/4 cups gluten-free all purpose flour + 1 teaspoon baking soda + 3/4 teaspoon salt Preheat the oven to 350 degrees. In a mixer, cream together pumpkin puree, eggs, oil, water, and sugar until well blended. In a separate bowl, whisk together baking mix, protein powder, cinnamon, and allspice. Stir the dry ingredients into the pumpkin mixture until just blended. Pour into the prepared muffin tin. Bake for 30-35 minutes in a preheated oven until a toothpick inserted in the center comes out clean.
Chocolate Banana Ice Cream
2 frozen bananas
1 scoop Chocolate Pure Protein Complete
Splash of milk of choice Add ingredients to a blender or food processor until it reaches ice cream consistency and enjoy! Top with unsweetened coconut flakes, pecans or fruit if desired!
Chai Latte Smoothie
2 scoops Pure Protein Complete Vanilla Spice
⅓ frozen banana
Milk of choice
2 drops Cinnamon Bark Vitality Essential Oil
1 drop Cardamom Vitality Essential oil
Nutmeg Vitality Essential oil (swirl a toothpick in the bottle, then into the blended smoothie)
Ice to taste Add ingredients to a blender (except Nutmeg) and blend well. Option to top with unsweetened shredded coconut or ground cinnamon.
Vanilla Spice Overnight Oats
1/3 gluten-free rolled oats
1 Tbsp almond or peanut butter
1 scoop Pure Protein Complete Vanilla Spice
Just under ⅓ cup milk of choice
1 Tbsp cacao nibs
2 Tbsp chia seeds Stir together and let sit overnight. Top with fruit of choice and enjoy!
Banana Protein Muffins
1 cup almond flour
4 scoops Vanilla spice Pure Protein Complete
1 tsp baking soda
1 egg
1/4C pure maple syrup
1 Tbsp almond milk
3 mashed bananas Add all dry ingredients together and dry ingredients together then mix. Bake for 25 min at 350!
Chocolate Chip Protein Bites (recipe via Oily Rockstars)
2 cups Organic Quick Cooking Oats
2 Tablespoons Organic Ground Flax Seed (Find HERE)
3 scoops of Young Living's Pure Protein Complete in Vanilla Spice
1 cup Organic Peanut Butter (you can sub any nut butter you would like)
1/4 cup raw honey (Find HERE)
2 Tablespoons milk of choice)
1/4-1/2 cup Enjoy Life Mini Chocolate Chips In a large bowl, mix your oats, flaxseed and protein powder together using a fork. Add your peanut butter and honey. Mix to incorporate. Add the almond milk. You may need to adjust the amount of almond milk, as you will need your "dough" to be moldable but not too moist. Lastly add your chocolate chips and mix until evenly distributed. Shape into the size balls you would like and place on parchment paper. Leave set for 10-15 minutes. Store in a container in the fridge. Enjoy!
Vanilla Spice Protein Pancakes
1/2 cup Vanilla Spice Pure Protein Complete
1/2 teaspoon gluten free baking powder
2 large eggs
Scant 1/4 cup unsweetened milk of choice
1 Tbsp melted coconut oil
Pinch of sea salt Mix all ingredients together and cook on a griddle or on the stovetop.
Join us this month as we ditch low quality protein powders and meal replacements for Pure Protein Complete or Balance Complete!
If you haven't yet subscribed to my blog, you can do that
HERE
.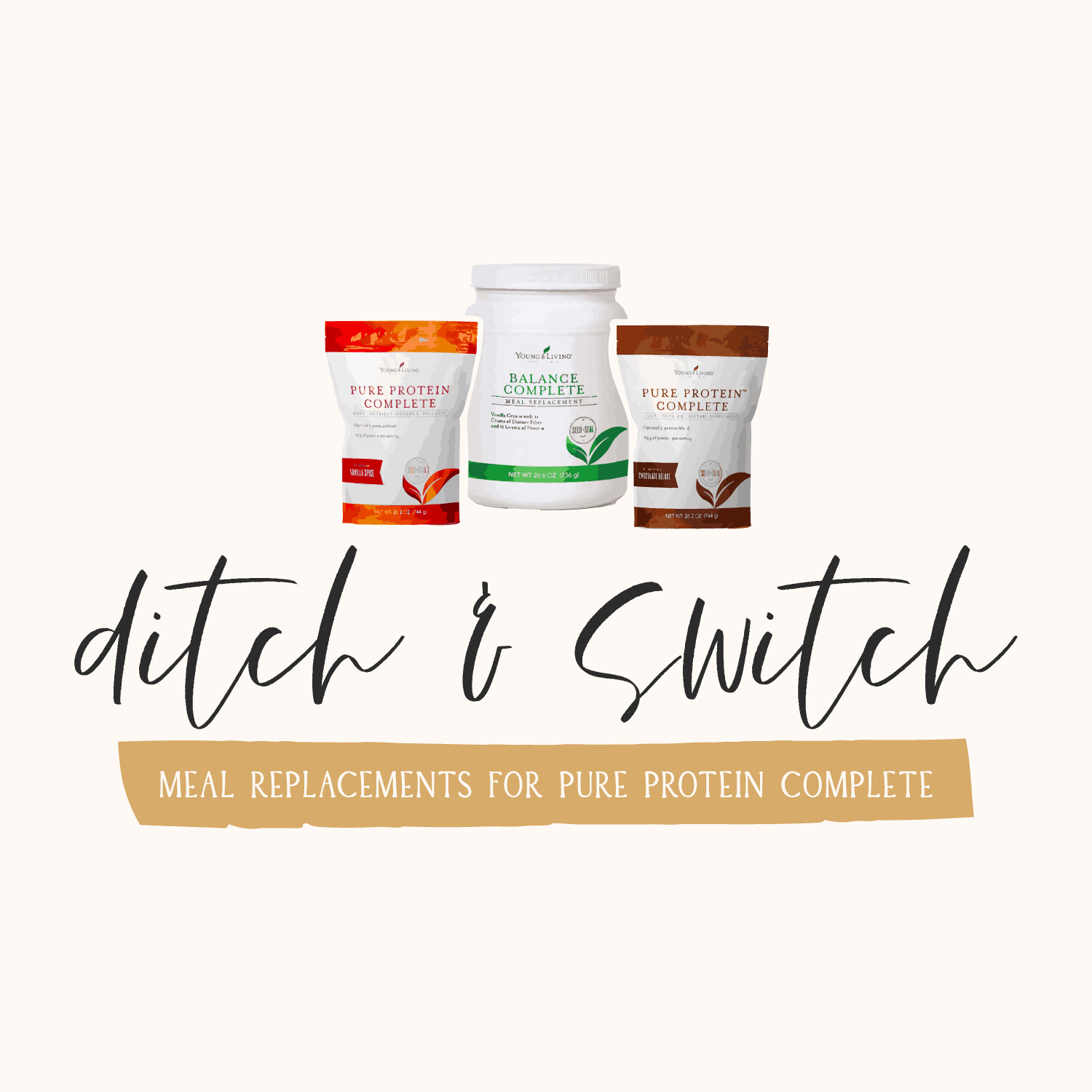 Have you thought about making a few changes to eliminate harsh chemicals from your environment but just didn't know where to start? Click on the link below to get access to my Simple Start to Natural Living!