12/06/2021 09:00 AM Central
Jacqueline McLaughlin
I just made this delicious Chocolate Bark with chopped roasted almonds & wolfberries, adding a few drops of Vitality Cinnamon Bark! WOW!!! I got 88% cacao Belgian chocolate ~ because why not use the good stuff ~ and experimented with Vitality Oils. You could make it with Vitality Orange, or Vitality Peppermint, and even combinations, like Vitality Cinnamon & Nutmeg! The possibilities are endless, depending on your taste preferences!
It's super easy and quick to make, and it's a wonderful gift for anyone who loves chocolate, with your own special flair!
If you'd like to receive some recipes and ideas for your own version of Chocolate Bark,
contact me
and let me know and I'll shoot you an email. And if you're a fan of White Chocolate, we've got recipes for that, too! Here's some pictures of what I made this morning to take to a gathering!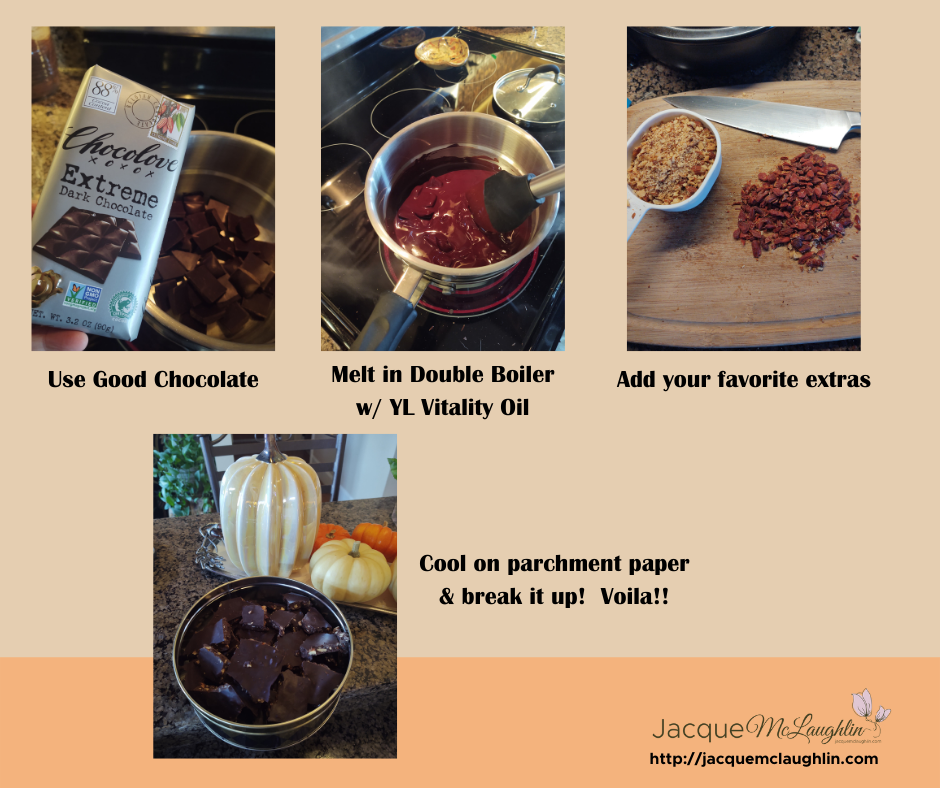 Don't have an account set up yet to get your Young Living Vitality Oils (the only ones I am aware of that are approved by the government for internal use)? Use this link to set up your account to go shopping, and I'll send you a very special gift! PLUS, you'll get access to our very special team members area with tons of recipes and oily news & education!
Have you thought about making a few changes to eliminate harsh chemicals from your environment but just didn't know where to start? Click on the link below to get access to my Simple Start to Natural Living!