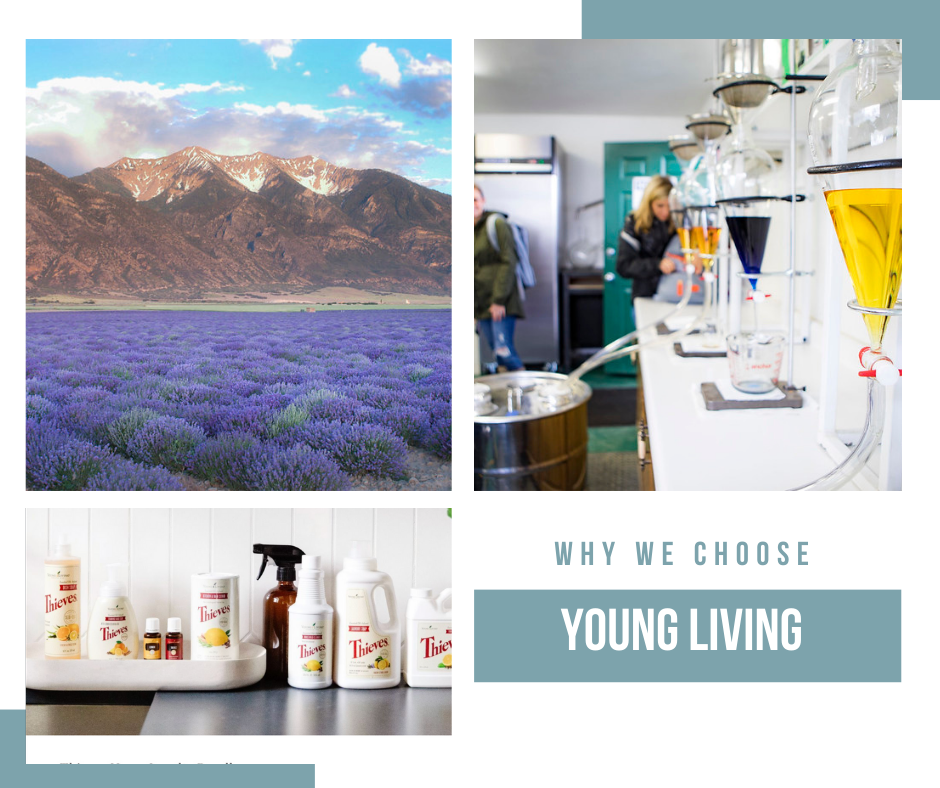 WHY YOUNG LIVING
Have you ever picked up a bottle of essential oil at TJ Maxx and thought…"I wonder what the difference is between this and Young Living?"
It might be tempting to believe that there is no difference, so why not buy the cheaper oils? There's LOTS of things that set Young Living apart to make them the world leader in the essential oils industry and make them the clear choice if you want the best & purest oils around:
Sourcing Standards: Young Living developed and lives by their Seed to Seal sourcing standard. This five-step process protects our planet and provides premium essential oils that are potent and powerful. This standard ensures that the farming, harvesting, distillation, testing, and the final product are all of the highest standard and done without compromise; every step of the process is controlled by Young Living! Learn more at seedtoseal.com


Therapeutic Quality: The oils on store shelves are usually labeled as aromatherapy grade; meaning they smell great, but don't have any therapeutic benefit. Young Living oils are potent and powerful with a wide range of benefits that include aromatherapy, but that also provide dozens of other benefits to our bodies.


First Distillation: One of the reasons Young Living oils provide therapeutic benefits is that they only use the first distillation of plant matter to produce their oils. This means you get plant powered products that deliver results, instead of watered down oils that have undergone seven or eight distillations. Do you ever run your coffee grounds through the coffeemaker more than once? Doubtful. That's analogous to how many essential oil companies make their oils - they run multiple batches from the same raw material to get the most out of the plant, and then combine them all together, and you end up with a watered down end product.


No Synthetics: Sadly, many "essential oils" contain ingredients that are a far cry from the pure, powerful, plant based substances that real essential oils consist of. Many essential oil manufacturers cut their oils with synthetics, add floral waters to stretch the oil and save their own dollar, and use chemical solvents to extract the oils. Young Living doesn't partake in any of these practices; what you get in the bottle is 100% pure, unadulterated, essential oil!


Purity: There isn't a lot of regulation in the essential oil industry, which means we have to be extra careful as consumers. Many essential oil companies label their oils as "100% pure" when it has, in fact, very little plant matter that has been used to create that particular oil. Young Living uses ONLY plant matter in their oils, and follows strict and strenuous processes to ensure top quality. They go so far as to test the soil before planting, they test the water before it's used to water the field, and they use hand weeding techniques so our plants are never altered by chemical weed killers. They truly are the gold standard of essential oils!


Testing: Young Living goes above and beyond when it comes to testing, going far beyond industry standards to ensure top quality oil is in every single bottle of essential oil. They perform 20 quality assessments, three times each, on every batch of oil. If an oil doesn't meet their standards, they don't sell it.

There are dozens of other things that I love about Young Living, and a part of why I chose them. From being able to go on site to the farms and distilleries to the sustainable farming practices to the incredible selection of oils and products Young Living offers; there simply isn't any other company that comes close to YL! Tell me, what made you choose Young Living?